The massive farmers' protest in the borders of Delhi amidst a pandemic and innumerable hurdles is a story of resistance and resilience as well as deep inspiration for all those struggling against different forms of loss of agency and freedom, around the world. The farmers' movement is being representative of world-wide grassroots struggle for reclamation of rights of indigenous peoples and minorities, from the clutches of tangled corporate-political nexus and various forms of power. It is important for all of us to understand these kind of movements and support it in whatever way possible, as this ultimately is about all of us too.
The more I reflected, deeper was my inner urge to be physically with the farmers even if of for a short while, to show my solidarity, and learn how best to help. Just around the same time in March 2021, Rohit Kumar wrote an article in The Wire, titled "Why You Should Visit the F.A.R.M.E.R. at Tikri Border at Least Once". That reinforced my desire and I booked my tickets immediately. Thereafter, the ferocity of Covid second wave made me postpone the travel.
Eventually, the trip happened. When I conveyed my plan to my colleagues, many expressed their wish to join me. They were happy that i could go and asked me to convey their solidarity with the farmers. The week before the travel, Ananthoo from Tula visited Marudam and shared his experience from the site of the Farmers' protest and many of us found his experiences inspiring.
Clifton, a Banglore based lawyer working with the trade union AICCTU, shared the contacts of Navkiran Natt and Sukhdarshan Natt for staying at Tikri.
August 1st 2021
11am. As I boarded the metro train to Tikri, I called Sukhdarshanji to request if I could stay with him for a week. He said, "It's a public space, not that I own this place. If you can bear a few mosquito bites, then Yes, why not."
My first impression looking at the protest site reminded me of the vast tiny mycelium network that holds the giant forest together. The mass congregation of the farmers are helping nourish the vital values of healthy co-existence, simplicity and truthful living. They are literally providing lifeline – food and ethics! and upholding the constitutionality of our country! In the nights, the silent immensity is very humbling and soul rejuvenating.
I stayed with Sukhdarshan Singh Natt, a Manasa-based senior leader of the CPI(ML) Liberation. He explained why the Sikh fraternity feels Delhi is never a friend. How Punjabis, though they are minority, they never felt threatened or weak. Instead they are on a roll to show Delhi that they cannot be defeated. He spoke about Ranjit Singh of 1801-39 and the way they trained their army under French when they were fighting the British. The Sikh tradition has been full of truth-warriors, like the many Sikh Sants who had to lay down their lives for the cause of truth.
5pm. I went with Guru Gobind Khalsa warriors people to meet their President Rudhu Singh. It was a warm meeting with welcome tea, and a nice discussion on their contributions. Rudhu Singh inquired if I am comfortable at pillar 783. When he came to know that I am a teacher in a school where we teach farming, he said that even this protest is part of the farming. He asked me to teach this to the children in a way they can understand the importance of this part. Towards the end, i relished a sweet and cold Badam milk with a tinge of black pepper!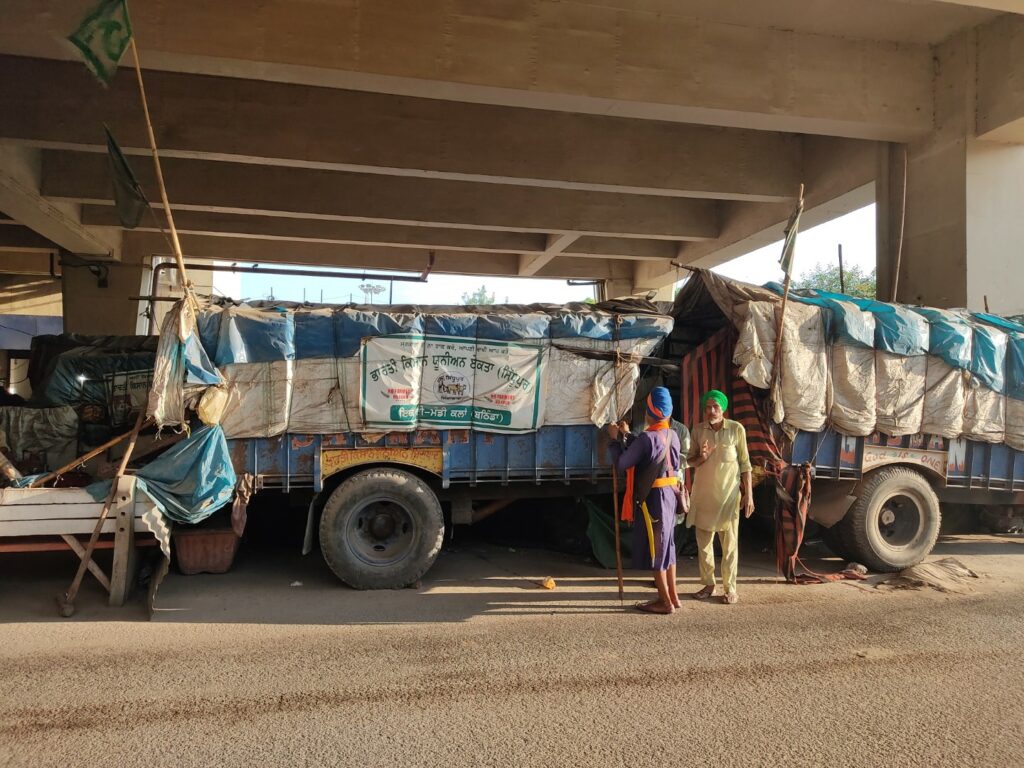 6:37pm. I met a documentary journalist Randeep Maddoke, the maker of the film Landless, who is documenting the farmers' protest from October 2020. His film is a must watch. He shared how the farmers' struggle is the best example of a contemporary mass movement. He emphasized the part of BKU (Ekta Ugrahan) in the whole farmers movement. SKM has over forty Indian Farmers' unions with them. BKU (Ekta Ugrahan) is not part of the SKM, but they extend their support to the coalition. Ekta Ugrahan is also very worthily, extending true solidarity for all political prisoners. He spoke about all the significant protest events, such as Rail Roko, December 10 Human Rights Day protest, Jan 26, Feb 20, March 8th 80000 women farmers gathering…
I was thrilled to hear that at peak time the tents and roadside houses were there for 23kms. I wanted to take a walk the next day and didn't know how far I could go.
The evening followed with prayers and then dinner. My day was filled with warmth and gratitude. Humbled by all they shared with whatever they had.
2nd August 2021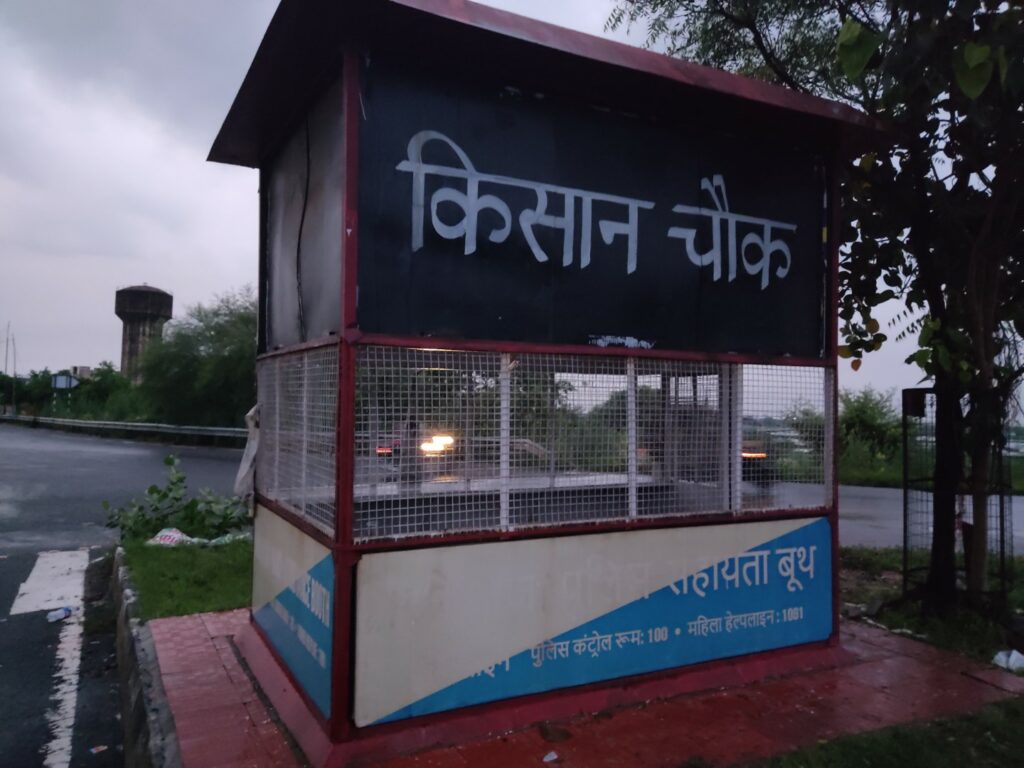 4 am. I woke up and went for a walk to find the farmers' tents for as long as I could. I went to a highway border which is renamed as Kisan Chowk. From there to Bahadurgarh is about 10km. All through I could see only farmer settlements. Some were temporary and some permanent structures. It has all the amenities required for basic living. At 6 am, about 700 people lined up on a queue to collect milk. They have been given a milk card, with which they can collect about a jug of milk, may be 1.5 litres. Came back to our tent by 7 am. Washed my clothes and took bath. When I slipped and got a scratch on my big toe, one of the Khalsa warriors cared to put a bandage immediately, as if it's his duty. I humbly listened to their stories and had a large glass of tea.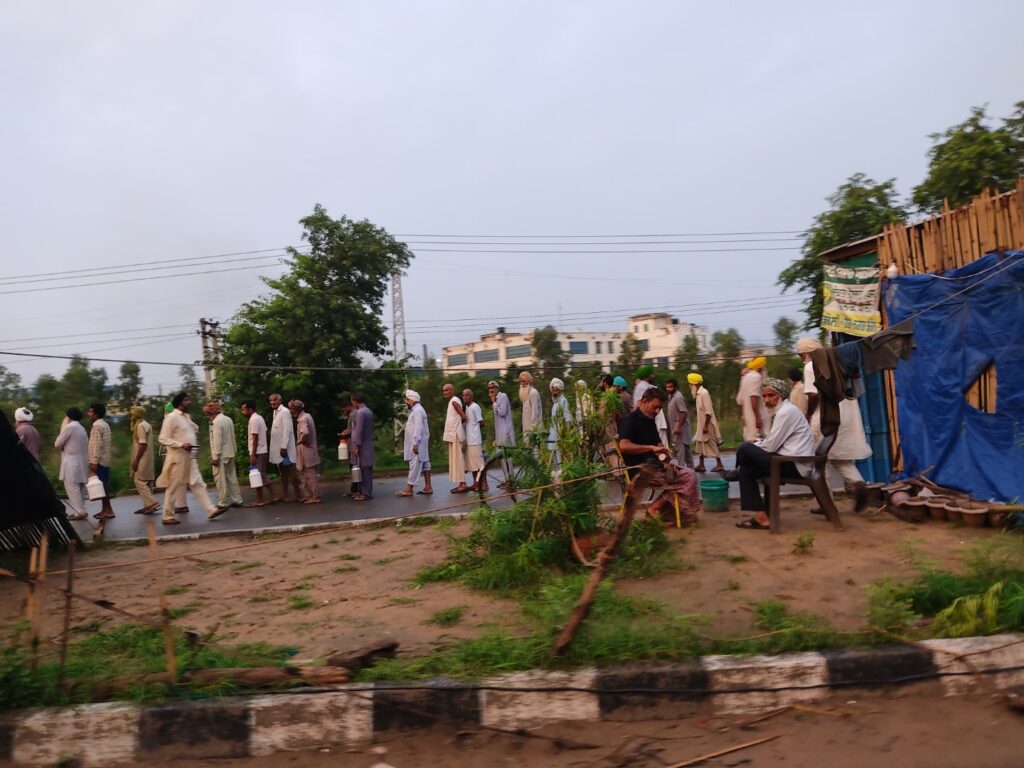 11:30am. After having our breakfast, along with the Khalsa army, went to Singhu border to see and hear their leader's speech. To witness the resistance at Singhu border was exhilarating. It was sprawling for a straight 10-12 kms.
3:30pm. A sudden down pour and roads were quickly flooded. Traffic crawled on both sides of the road. It took about 3 hours for us to reach back to Tikri.
3rd August 2021
6:23am. Jasbir Kaur Natt, the women's union leader said, if you want to visit Kisan Sansad, a jeep is going from here to Singhu. She asked me to go to pillar 764 and board the vehicle immediately. I reached the spot. I saw few farmers assembled at the place. Some of them had a few sheets of notes prepared to speak at the Sansad. I joined them in their travel.
At Singhu border they have to collect their passes for the Sansad. It is well organised. I was told that, just a media card is enough for me, as I was carrying one from pedestrian pictures with whom I have volunteered for a while. Once they got the passes, we all had our breakfast at a langar and boarded the buses. 5 buses to carry 200 Sansad members.
9:30am. The bus reached Amber resorts at a border in Delhi, where police do a thorough checking of the bus and verifying the passes for the Sansad. I was off boarded from the bus, but given a seat in a different bus which also had some police men and other journalists. The traffic in the city was stopped in many places to safely and quickly move these people to Jantar Mantar. By 10am the buses reached the place of Sansad. The journalists where allowed entry after Kisan sansad could settle a bit. The topic for discussion was Minimum support price. Union members of different unions came one after the other and spoke about the issues. Every day there are 3 sessions and each session has a speaker and a deputy speaker to conduct the sessions. The day also saw 5MPs paying visit to the place to show their solidarity. I can imagine it will only increase in the coming days.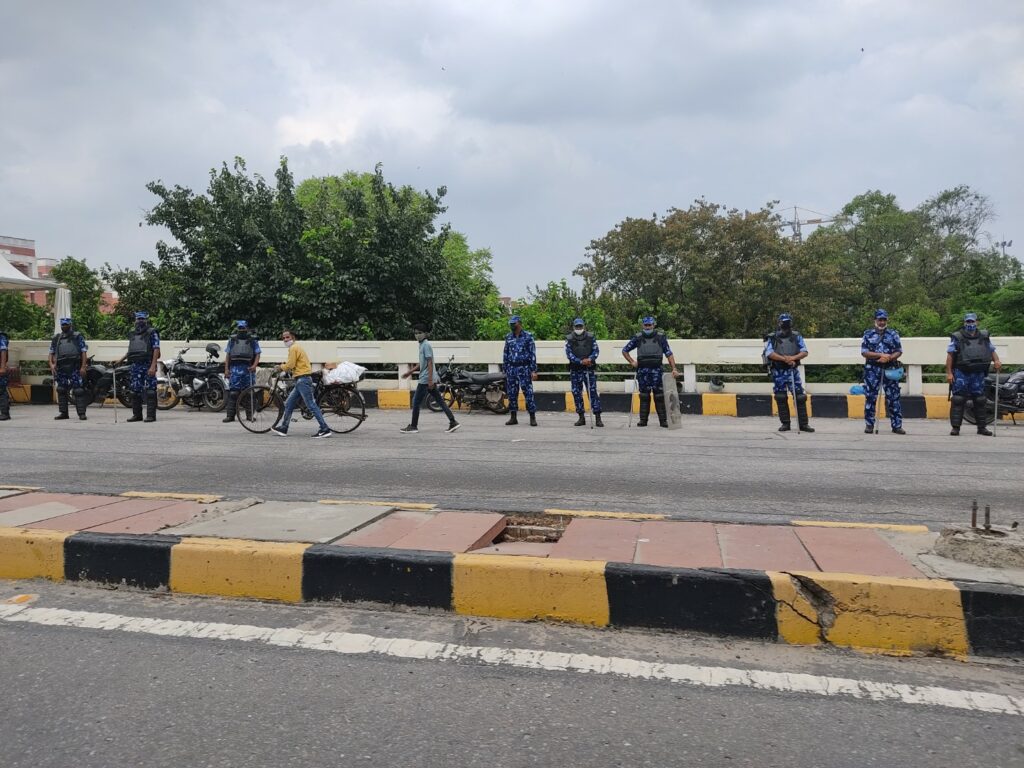 I also met some interesting people at Jantar Mantar such as Suman, Sanitary worker who has been working here for more than 10 years. "These people show us how to protest against such a government. But I am sad that the government is not caring for the people." said Suman.
Tapon Biswas, only senior journalist of the day, easily around 70 years, is a regular writer at Dalit Adivasi duniya. He said, "I have never seen anything like this in my career, this is a milestone movement."
Rani from Guntur, who came to Jantar Mantar 3 years back to resist and demand justice for her daughter's life, but ended up there as a person with no care and she needs psychological help as well.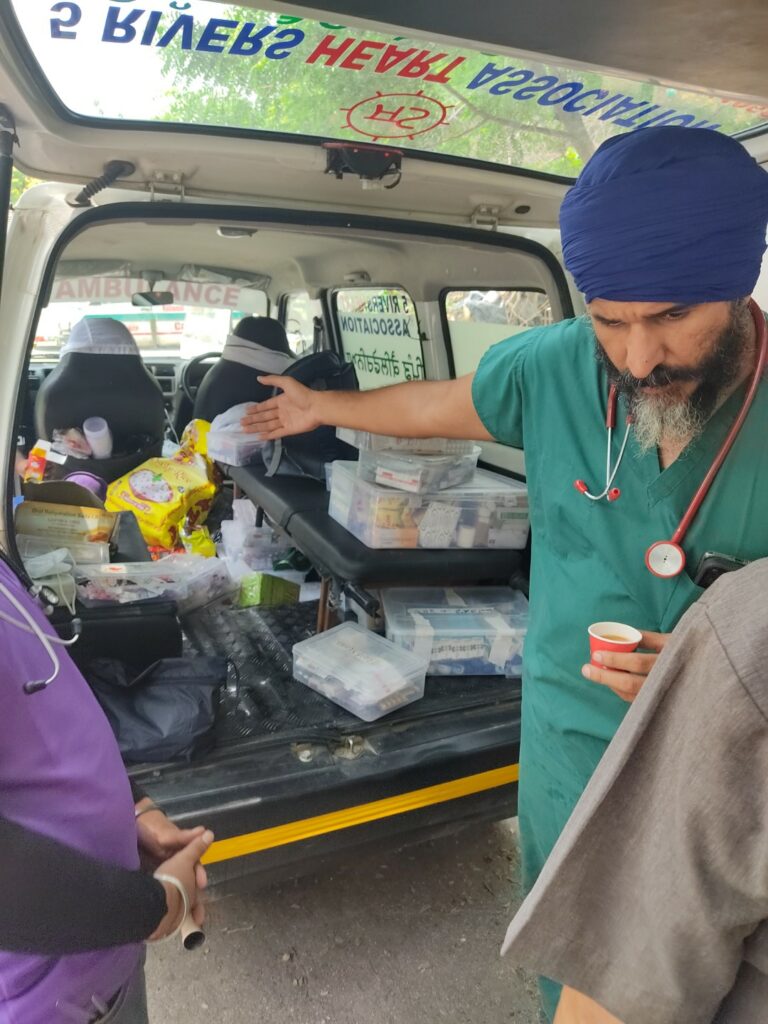 I met Dr Swaiman Singh who had returned from California to setup a health care center called Pind California. This organisation has so far registered 1000 doctors who visited for a few weeks or upto several months to take care of the farmers protecting them from the pandemic. He says, "We have done everything we could in the COVID fight, from dispelling rumours to pushing people to get vaccinated and urging them to follow COVID protocols."
6pm. After returning to Singhu border from Jantar Mantar, it was time to meet Ananthoo of Tula and Kavita of ASHA. It was a great time spent together with them. Also, met an amazing youngster Amarinder who is a friend of Kavita. That boy would grow up to be someone great to remember. He is 24 and it was his birthday. Kavita says, "This is a boy when meeting any leader, would go to him and say, I remember you, but you may not. I met you at so and so protest rally or a march." He is very socially aware & engaged at such a tender age. Maybe most youngsters of this generation are….when we look at the age of "Fridays for future" school protest volunteers Or Extinction Rebellion youngsters, as young as 9 yrs old and the like…its we adults who are very closed . Dr. Darshan Pal, union leader of Kranti Kisan Union was staying in the next room. We spent some time there as well. Yogendra Yadav, Prashant Bhushan and Prashant Kishore came to visit Dr. Darshan ji. It was great to be among all of them in close quarters. In the night Ananthoo shared how he was deeply moved by the plight of the migrants and what followed was a personal experience. It was inspirational to hear it straight from him. It was already late in the night and we knew we would wake up late.
4th August 2021
11am. I walked to many tents and shared how we were deeply obliged to all the farmers putting up this struggle for the world. At school we wanted to show the real resistance by the farmers. The media is not sharing enough light on this issue, as they are terribly frightened to share the real situation at the borders. If known to all of India, it would be a massive uprising. They all shared stories about the resistance back home. Some asked me, "Did you bang your plates last year to ward of Corona?" To show the protest in the school, we wanted the badges and flags of different unions. It is also difficult in the time of secret agents to give the badges as it might put them into a difficult situation. But still many of them offered tea, snacks and meals along with their badges and flags.
Both the Singhu and Tikri borders have many health check-up facilities, some with a dozen beds. Huge pharmacies. Places for food like langar after langar continuously cooking and making tea. There's even a pizza langar, which operates every evening from 5pm. There's a place for community washing with many washing machines with volunteers helping to wash the clothes of the farmers' resistance supporters. A cobbler has put up a tent to mend the shoes and chappals of all the protesters. A barber is cutting hair of a farmer sitting under a tent. Amazing expression of togetherness.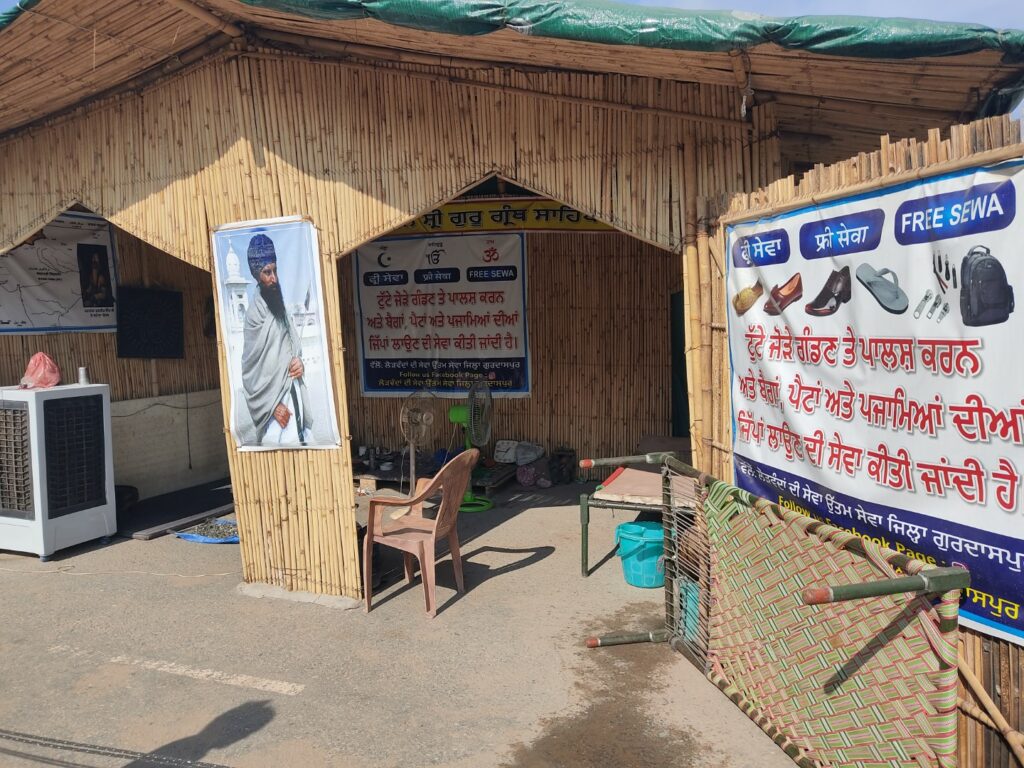 Some people were listening to songs, debating on general life issues, playing cards and relaxing. Getting a cool air from a cooler in a hot day. Some trolleys with ACs fitted in them. Also witnessed a tent city.
SKM has put up a stage at the border for people to speak and listen to. I spoke about how we need to teach children about this resistance when in school, so they are able to explore real-life problems and evolve into mature beings capable of being a part of the solution in their later years. And these inspiring stories of resistance & renewal is what makes real education happen. They all were able to understand my broken Hindi, and I could guess when they laughed at my Hindi. Then took an auto and two buses to reach back to Tikri border.
5th August 2021
8:30am. Gazipur border is no different from what I witnessed at Singhu or Tikri. Here the protest tents extended to about 5km. It is a km away from Vaishali Metro station. I missed visiting Shahjahanpur border.
1pm. I met Santosh a Bio-Statistician by profession and Founder of Workers unity youtube channel, at his home. He and few others run this youtube channel called workers unity. Founder-Editor, Sandeep Bauzi has been a victim of Pegasus snooping. They shared about an important meeting to be held in Punjab on Aug 9-12, 2021, where the workers' union and the farmers' union are going to engage in a dialogue to see what next for the farmers' protest. All of us were joking as to why we haven't been chosen for Pegasus snooping, maybe it indicates that we need to work hard!
August 6th 2021
9am. At Tikri border, pillar 783, Trolley Times. Gurudev Singh, a 78yr old farmer from Punjab, shared his story. "I came to India from Pakistan when I was 4 years old, three days later the riots broke out during partition. Later when I was a shepherd at 9 years, I got introduced to communist party and unsure when I became the member." He is a senior member of the CPI(ML) Liberation Party. He is sure that the Government will repeal the black laws.
A Dancer, and two law students came to Trolley Times to collect the latest edition and conveyed their solidarity, as they then walked towards the stage at Tikri border. Trolley Times is run by Navkiran Natt a dentist, also a graduate of film studies from Ambedkar University. They also have an active library with the register getting entries every now and then.
8th August 2021, Tiruvannamalai. (Few reflections)
I remember what Sukhdarshan shared about the facilities needed for a long stay. Almost all the places had huge water purifiers for drinking and cooking. To get water, they had dug few bore wells spaced well apart. The sewage from the lavatories installed in a common place is connected to the public sewage. I asked him, if we have to pay the electricity bill. "The Government brought 3 'so called' important bills, they can have this bill as well", says Sukhdarshan jokingly! He said, they used the industries' power lines. The government initially threatened them with the shutdown of the power lines. The farmers' union negotiated that they would have to use power from the Metro lines then. Government responded with care that the appliances would blow-up as that's 12000 volts, for which the farmers responded, "Yes, we know that, and we also know how to install a step-down transformer to convert that to 220 volts".
All we need is intent. Farmer's are showing that nothing can stop them at all.
It was an immense experience for me for the past whole week. When I said bye, Jasbir Kaur Natt asked me to promise that I should bring my family along with me next time. I wish that happens within the next four months.
Repealing the laws is essential for the protest to come to an end. But what is more important is that the process to reach till this stage needs a celebration, it is a victory already. The spirit of the movement, its collective will to stand up for the truth, despite the loss of 600+ individuals martyred in the struggle, and the many hurdles across the way…(lathi charges, goon attacks, fake news, total govt. indifference etc, in addition to braving the pandemic and severe cold, heat and rain….) The energy shared by all the senior citizens in the protest sites are evident that they are not going back to their villages till the laws are repealed. When government machinery kept multi-ton cement structures to block the entry to Delhi, the farmers converted them to make it as a protection for their new homes in the middle of the road. The police barricades are literally their fence around the new home. They have faced huge resistance to be where they are today. They are here to STAY, until the laws are taken BACK. It is the rest of civil society which needs to wake up to the harsh realities of the corporate-govt. nexus that is slowly eroding the base of a humane society and rupturing the ecological balance that is needed for all of our collective survival. For the sake of all beings, let's unite with the farmers, and stand up with them, to usher in a humane society, a microcosm of which we can glimpse in the way the farmers are jointly humanely protesting.
Some of the ways in which we could concretely help:
To discuss and raise awareness on the plight of farmers with our friends and colleagues, so we help dispel any myths of "farmers being rich", "farmers linking with terror groups" etc, floated by fake media.
To visit the farmers, expressing solidarity, and gaining life-lessons along the way.
To help support financially
To make conscious socially engaged artwork, that helps people connect to the real issues on the ground, as well as translate truthful data into digestible formats by the lay public)
To re-focus on Agriculture as a vital social sector, and help make it a more sustainable lucrative option for youngsters, with emphasis on Organic/Natural Farming methods
To help reverse-migration from urban to rural areas so the plight of informal migrant sector is also alleviated.
To reflect upon and initiate discussions on "Development", "Growth"etc, and figure out how to make them all in tune with nature's organic evolutionary processes.
In conclusion, sharing a couple of verses by Guru Nanak and Rumi, widening the very meaning of farming and farmers:
The body is a farm,
thy actions the seeds,
it is watered by the name of God,
in whose hands is the whole Earth.
The mind is the farmer.

Guru Nanak
With every breath I plant the seeds of devotion
I am a farmer of the heart
day and night I see the face of union
I am the mirror of God
Every moment I shape my destiny with chisel
I am the carpenter of my own soul.

Rumi
Though it is not practically possible for all of us to visit the protest site, we all could contribute to this resistance is anyway possible, as all of us have different strengths and expertise.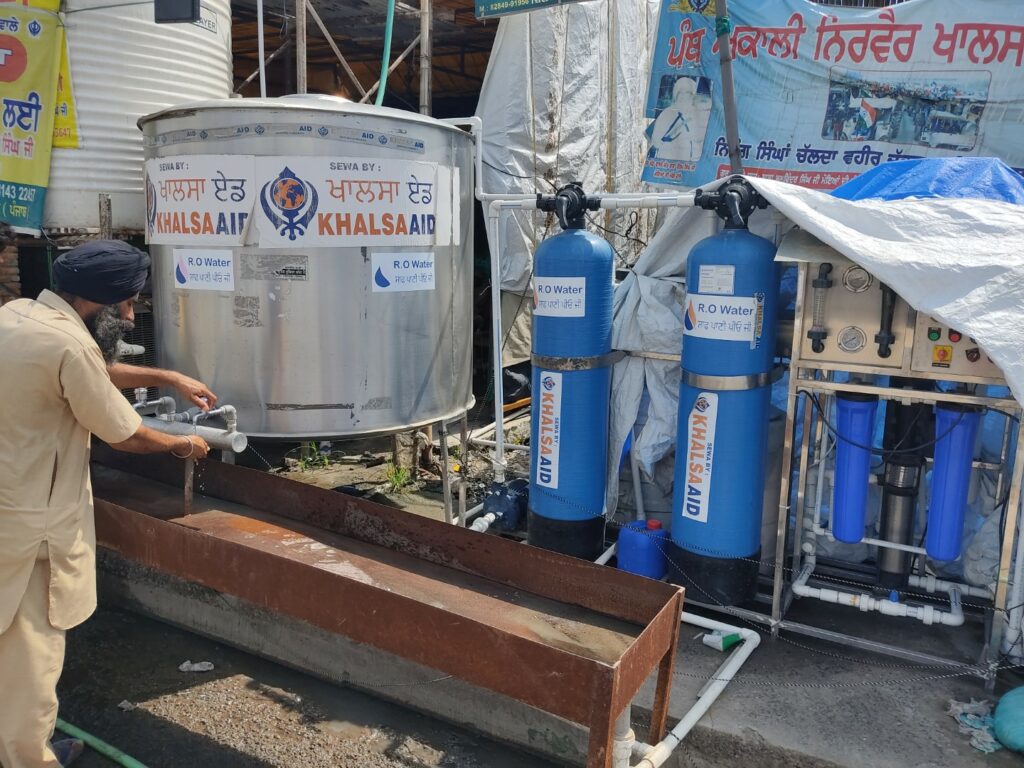 Further Reading:
A simple and a must read on why farmers are insisting on a Repeal of the 3 Central Farm Laws by Kavitha
The New Khalistan Conspiracy
Listen to some powerful protest songs
Subscribe to workers unity
Devinder Sharma – Are the farm reforms good for Indian famers?
P.Sainath – Farm bills will benefit Big Corporates, Not Farmers